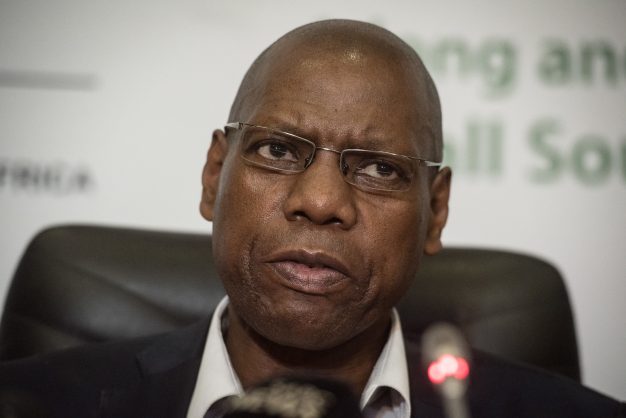 Health minister Zweli Mkhize can be seen during a press briefing on updates on the coronavirus in South Africa at the Civitas building is Pretoria CBD, 9 March 2020. Picture: Jacques Nelles
The health minister has said that the rate of spread has been far lower than anticipated, with expectations having been that SA could be up to 5,000 by now.

Health Minister Zweli Mkhize on Tuesday said the confirmed cases of Covid-19 had risen to 1,353 after 39,500 tests were conducted. At least 55 people have required hospitalisation so far.
After initially saying there were four deaths, he updated this later in his briefing to five.
A 79-year-old man became the first person to die from Covid-19 in Gauteng. He was admitted to a private hospital in Mogale City, West Rand on Saturday and died on Monday, according to a statement from the Gauteng premier.
Gauteng, the epicentre, has 633 coronavirus-positive cases out of the 1,353.

The minister recapped the deaths as follows: The first was a 48-year-old woman in the Western Cape.
The second was an 85-year-old Free State man who had gone to a church in Bloemfontein that made headlines for a number of high-profile people being infected there.
The Gauteng fatality had no history of travel.
The other two were in KwaZulu-Natal: a 46-year-old man from Ladysmith and a 74-year-old woman from Umlazi.
The 79-year-old from Gauteng had chest complications and the 46-year-old had underlying chronic asthma and hypertension.
Covid-19 is known for being more fatal among people who already have a pre-existing condition of some kind.
Speaking at the port in Durban, Mkhize added that there was still huge pressure on lab services to do tests.
"We picked up backlogs in the system. We moved tests to national lab services. By Friday we cleared 4,000 lab tests."
He said the closure of ports of entry has been a major positive factor in slowing the virus' spread.
"Up to last week 70% of positive cases were passengers coming into the country.
"We are changing the strategy to look at additional means of testing."
He was pleased to report that the rate of increase was not as high as anticipated.
"We are observing the trend. We anticipated 4000 to 5000 [by now] but we haven't reached that."
On the other hand, with a large-scale rollout of testing now being planned, it was likely that many more positive cases would be found, and the challenge of the winter months stretching ahead could not be discounted.
"If you are advised to stay home and be in quarantine, you must abide. We charged people who are not observing quarantine."
He said the large-scale shutdown of public transport had also made a significant contribution to slowing the spread. He said quarantine measures appeared to be working once positive cases had been identified.
"We will see more and more mobile vans. We want to be ahead of the curve. Patients are recovering well. Most patients are stable. Numbers in hospital also increasing."
The department was working hard to protect health workers and provide protective gear to them.
"We are scaling up on the number of beds. This is part of our plans." He said the department had had a discussion with medical device manufacturers. "We need them to start building an additional stock of ventilators. We want to be ahead of time."
By Charles Cilliers